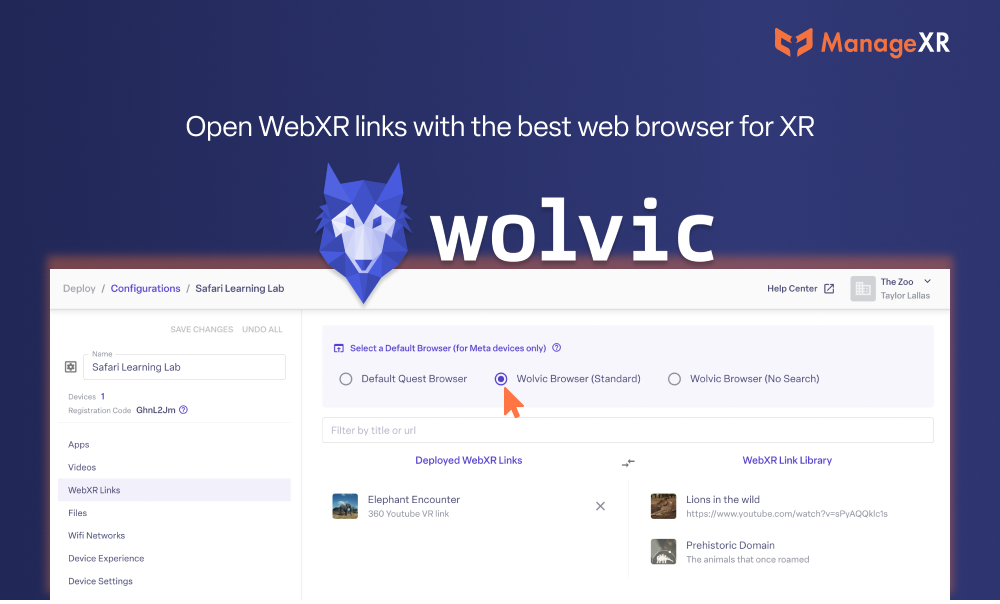 DATE:

AUTHOR:

The ManageXR Team

RELATED ROADMAP ITEMS:
Web Console
Home Screen
Device Admin App
Wolvic browser for WebXR, remote streaming expansion, and more
DATE:
AUTHOR: The ManageXR Team
Our latest update is packed with improvements: a better way to experience WebXR on Quest, broader support for remote screen streaming and more!
Launch WebXR links in Wolvic Browser (Quest)
WebXR enables users to access immersive content through internet browsers. By default, devices open WebXR links using their built-in web browser. With this update, we're giving you easy access to an excellent alternative browser: Wolvic.
On Meta Quest devices, you can now use Wolvic as the default browser for WebXR links. Wolvic is an awesome, open source web browser. Wolvic browser is easy to use, reliable, and built for XR.
Go to Configuration > WebXR Links to set Wolvic as your Default Browser for WebXR. Selecting Wolvic will automatically install the browser app on your devices. Then, your devices will use Wolvic to open all WebXR links
3 reasons to use Wolvic instead of the native Quest browser
RELIABLE
1. With Quest Firmware v55, the native device web browser is unreliable; choose Wolvic for a stable WebXR experience
To prepare for new firmware releases, we routinely test existing functionality. When testing Meta Quest firmware v55, we experienced issues launching WebXR links with the native browser. Specifically, devices on firmware v55 may intermittently crash when opening WebXR links with the built-in Quest web browser.
Wolvic browser offers a stable and smooth alternative. Avoid unwanted interruptions and maximize high impact time in XR with a browser you can count on.
FOCUSED
2. You can restrict users from browsing the web with Wolvic (No Search)
You can lock users into a single WebXR link and block them from surfing the web by selecting Wolvic (No Search) on your configuration. When users open any WebXR link from your custom VR Home Screen, it will launch in a safe, simple, and focused window.
EASY TO USE
3. Wolvic is built for XR
Wolvic makes using WebXR easier. Beyond providing better stability, Wolvic has a delightfully simple interface. For example, you can:
Quickly adjust browser size, brightness, and toggle passthrough

Use controller shortcuts to get Youtube VR links into 360 mode faster

Adjust language and translation settings
For a step-by-step walkthrough, read our help center doc on using Wolvic browser.
Remote streaming on all non-Quest devices
Device screen streaming allows you to see what's happening inside your devices from anywhere in the world. Streaming first became available on Pico devices. Now, you can remotely stream any non-Quest device on ManageXR (Pico, Vive, DPVR, Magic Leap, Vuzix, and more!)
Like many of you, we're eager to add support for remote streaming on Quest devices. Once Meta makes this functionality available to MDMs, you'll have it
Full support for DPVR devices
Use our full suite of tools to confidently manage your DPVR devices:
Deploy apps, videos, webxr

Control device settings

Use ManageXR Home Screen or Kiosk

Shortcut to access settings in Kiosk Mode

Remotely stream device screen

Remote device wipe

Remote launch VR content

and all other essentials
Other noteworthy improvements and fixes
Control firmware on Pico G3 and Pico 4

ManageXR CLI support for Bundled Files

Haptic feedback on the ManageXR Home Screen

Gaze control of the ManageXR Home Screen on Pico 4 devices

Fix boot-up sequence issue on Vive XR Elite
Let us know what you think about the latest updates, and what else you'd like to see. Thanks for reading! You'll be hearing from us again soon.
The ManageXR Team