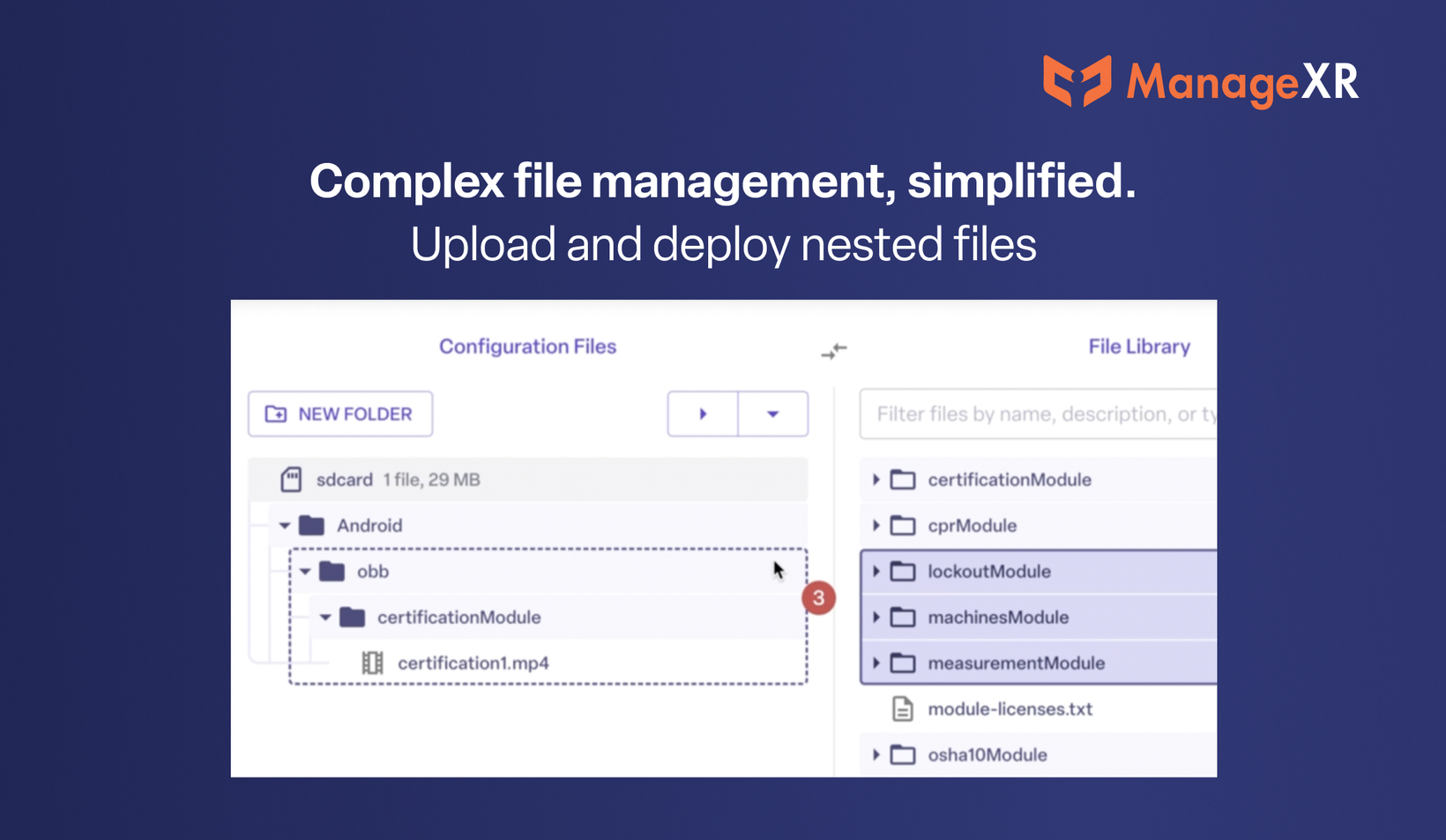 DATE:

AUTHOR:

The ManageXR Team

RELATED ROADMAP ITEMS:
Web Console
Device Admin App
Nested file management, SCEP wifi support, Quest 3 support
DATE:
AUTHOR: The ManageXR Team
We're thrilled to unveil our latest update that redefines the way you interact with files on ManageXR! Nested file management is here.
Advanced file management made easy
Upload and deploy nested files
It's often helpful to distribute files like Unity AssetBundles and MP4 video modules alongside your XR content. With ManageXR, you've always been able to distribute any type of file to your device's file system. However, the system was originally designed for deploying a handful of files at a time. Until now, managing intricate folder structures with numerous files could be cumbersome. We built nested file management to solve this problem. With the latest update you can:
1. Upload nested folder structures
Organize and manage your files just like you do on your local system. Upload entire nested folder structures directly to your file library. Whether you have a dozen files or hundreds, ManageXR can handle it all seamlessly.
2. Deploy Bundled Files with App Versions efficiently
Deploying apps with various asset files has never been this effortless. Package your nested folders as Bundled Files with your app versions, ensuring all the necessary files reach your devices with each app update.
3. Distribute hundreds of files in no time
Say goodbye to the days of adding files to your Configurations one-at-a-time and manually recreating folder structures. With nested files, deploying complex file structures to devices through Configurations is a breeze. Hold SHIFT to select many nested files at once and add them to your Configuration.
Why is nested file management a game-changer?
Efficiency: Reduce the time spent on managing and deploying files. Our nested folder support streamlines the process of distributing files to your devices.

Intuitiveness: The user-friendly interface and shortcuts ensure you can easily navigate and execute complex file deployments.

Flexibility: Whether you're deploying a single file, a bundle, or an intricate structure, ManageXR has got you covered. Customize your deployment strategy to suit your needs.
For more details and FAQs read the doc on nested file management
SCEP wifi enrollment (BETA)
Connect your devices to wifi using an enterprise-grade Simple Certificate Enrollment Protocol (SCEP) configuration.
We know setting up SCEP can be challenging, so we're here to assist you. Contact us for access to SCEP and hands-on implementation guidance.
Fresh, clean layout for Release Channels
As we gear up to introduce exciting new features—such as expiration dates and device limits on shared apps—we've given Release Channels a fresh makeover. You'll now find the Release Channels for your app in a dedicated tab.
Click on a Release Channel see a list of organizations you've shared your app with and deployment stats.
Not using Release Channels? Learn how they can streamline your app distribution.
Add your brand new Quest 3 devices to ManageXR today
Quest 3 devices are now available and so is initial support on ManageXR!
Device setup, content distribution, Home Screen / Kiosk Mode, and realtime commands are ready to rock
. Over the next few weeks, we'll continue to do robust testing and implement improvements to support.
Stay tuned for the full rundown on Quest 3 functionality on ManageXR. Let us know how registering Quest 3 devices goes for you!
See our Supported Devices doc for known Quest 3 limitations.
Improvements & fixes
Infrastructure upgrade to speed up Analytics & Activity Log load time

Fix restart & exit app on Quest firmware v57+

Show error when incorrect wifi password is entered in Home Screen / Kiosk Mode

Gaze control improvements and expansion to more devices

Add system language settings for Pico 4 and G3 models

Wolvic Browser version upgraded to version 1.5
Product Roadmap
Our engineering team is hard at work on several new features and improvements. You can look forward to
and other significant enhancements. Let us know if there's something else, big or small, we should be building to improve ManageXR for you!
Happy managing!
The ManageXR Team